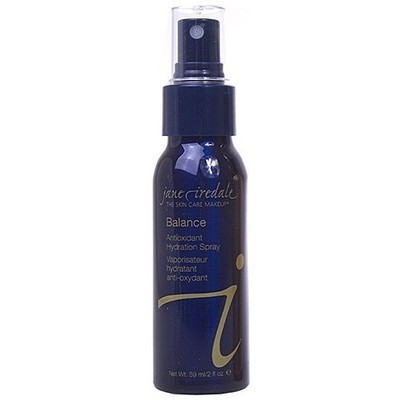 Balance Antioxidant Facial Spray - (£15.00 rrp)
You'll love the fresh, clean young fragrance of Balance, and you'll love what it does for the health of your skin. This antioxidant hydration spray was formulated specifically to help balance the skin's oil production and pH. It provides all the hydration you would expect from a facial spritz, and is also packed full of ingredients that help to battle free radical and microbial damage.

•Natural ingredients calm and nourish the skin
•Seaweed extracts help to reduce sebaceous hypersecretion and regulate the pH of the skin
•Contains green tea extract, proven to aid acne-prone skin
•Neutralizes free radicals and prevents environmental damage
How To Use
•Lightly spray your face from about 12" away. Pat your face with your fingers to work moisture into the skin and to minimize fine lines and pores. Spritz the face when the skin feels dry or when exposed to drying atmosphere
TIPS
•Use to set minerals and help to conceal pores and fine lines.
•Use anywhere that the atmosphere is drying.
•Use spritz as a moisturizer for oily skin.
•Use to wet brushes to make liners.
•Spray in your hair to control static!
•It's not a good idea to spray spring water on the face, because most spring waters contain chalk, which leaves a hard-to-remove white film on the skin.
Ingredients: Water/Eau/Aqua, Citrus Tangerina (Tangerine) Extract, Citrus Grandis (Grapefruit) Peel Extract, Citrus Grandis (Grapefruit) Seed Extract, Raphanus Sativus (Radish) Root Extract, Anthemis Nobilis (Chamomile) Flower Extract, Commiphora Myrrha (Myrrh) Extract, Sodium PCA, Camellia Sinensis (Green Tea) Leaf Extract, Corallina Officinalis Extract, Olea Europaea (Olive) Leaf Extract, Rosmarinus Officinalis (Rosemary) Leaf Extract, Vitis Vinifera (Grape) Seed Extract.